Insurance Agent Portal
A high security agent portal for multiple offices with risk assessment, certificate generation and reporting search criteria.
Requirement
A broker with agents throughout the UK and Ireland required a method for agents to submit risk assessments for verification and receive certificates once authorised.
Solution
We designed a portal that would automatically calculate rates from the values entered but can be manually adjusted by administrators.
We added a verification process consisting of six stages as applications are verified by different departments. Each department is able to refuse the documentation and return it to the agent with notes for changes or adjust the data before it continues.
Once verified agents would export a certificate and personalised documents detailing the terms and services included in the risk assessment.
The project used multiple access levels including administrators, agents and validators. Administrators can view all documentation, authorisers can only view submitted documentation, agents can view draft and accepted documentation and the validator can only view documentation that has passed the administrator's approval.
The agent submitting the documentation was notified of its progress as it passed through each department; any changes are recorded with the previous values archived.
We worked closely with the financial service provider's IT team to ensure the correct security procedures, including user tracking, automatic account blocking and multiple secure backup and restoration facilities.
The service provider required the project pass their own penetration test, provided by a third party with oversight and verification from the financial service provider.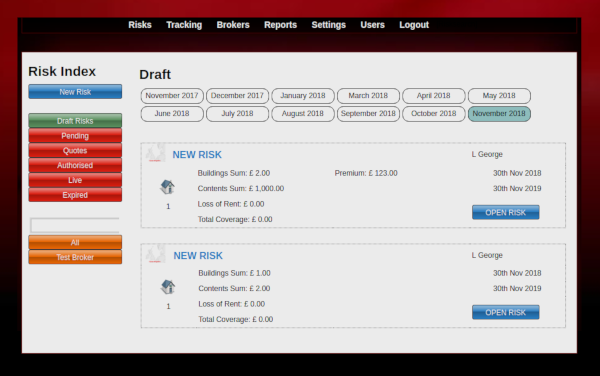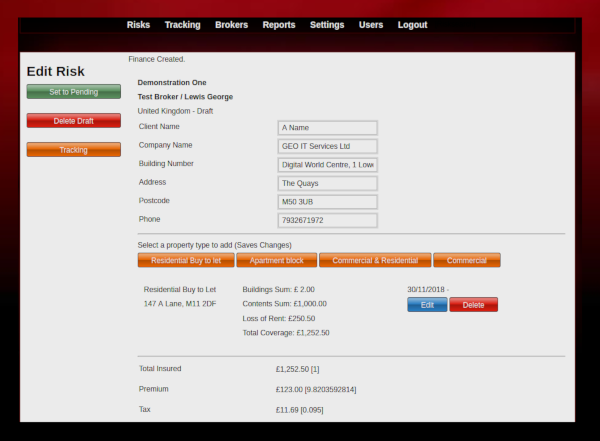 Get in touch
Each project includes a maintenance contract to update services and run security checks. Every account comes with access to our support ticket system, allowing you to speak directly to our developers and technicians at any time.